Scramble route & ropework
Instructor and equipment
Public liability insurance
Cape Town City area transport if required
Permits
Additional transport
Meals or accommodation
Personal, medical or rescue insurance
Skill level: Beginner
Duration: 2 full days
(usually Saturday & Sunday)
Minimum numbers: 2 persons
Maximum numbers: 12 persons
Want to take your hiking to the next level? Get away from the crowded footpaths and cross-over towards mountaineering? Want to explore the hidden parts of Table Mountain and the other magnificent ranges? Then take up scrambling...
Not quite rock climbing, but almost...
Being able to use some basic rope work techniques opens up the world of rock scrambling routes to the average hiker.
We will teach you how to safely follow routes up to C-grade. No experience needed and no expensive equipment required, just a section of rope.
The course runs over a weekend with a short lecture and introduction on Friday evening, followed by a day of training on Lion's Head and then a classic Table Mountain scramble route on the Sunday.
Come and join us for this incredibly fun and exciting course that change your perspective on hiking for ever.
You will learn: route finding, knots, classic rope skills, confidence roping, anchoring basics, movement on rock and danger avoidence.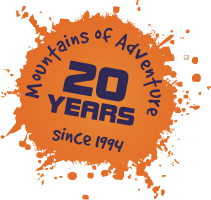 Mountains of
adventure!