Groothoek kloof epic adventure
Groothoek Kloof Epic Adventure
Minimum 5 persons:
ZAR 4500.00 per person
Guide, equipment
Public liability insurance
Transport from Cape Town
Permits
Catering from dinner on Day 1
Additional transport
Meals or accommodation
Personal equipment
Personal, medical or rescue insurance
Groothoek Kloof is situated in the rugged and majestic Hex River Mountains of the Western Cape. This magnificent and breathtaking canyon is accessed from the Matroosberg Private Nature Reserve and cuts a deep line through the ancient mountains snaking to an end just outside the town of De Doorns on the other side of the range.
This adventure of a lifetime involves much more than just spectacular canyoneering experience. It includes a trip on a 4×4 to 1920m above sea level, stopping along the way to sharpen our abseiling skills over some spectacular cliffs, 2 nights under the stars, excellent bush catering and a sense of being in unexplored terrain.
Day 1
Depart from Cape Town and drive to Matroosberg Private Nature Reserve via the historical towns of Tulbagh and Ceres taking in the well-known Bain's Kloof Pass. At the reserve we board a 4×4 which will be our transport high up into the mountains. On our way up the mountain we will stop at some spectacularly exposed cliffs to spend some time perfecting abseil techniques and preparing for the great adventure ahead. We watch the sun set over the canyon and we end the day with a traditional South African braai (BBQ) before spending the night sleeping under the stars at the start of the canyon.
Day 2 (8 - 10 hours canyoneering)
We get up early to prepare and have an early morning snack and coffee. At first light the action begins with a rugged scramble into the canyon and the first 50m abseil; from here there is no return and we must make it through the mountains and out to De Doorns. We start down a series of abseils over cliffs and down waterfalls and then follow the waterway to the campsite for the night. The night is spent under the stars.
Day 3 (10 - 12 hours canyoneering)
Again we have an early start as it's about an hours' walk before we get into the narrow part of the gorge which kicks off with the most exciting abseils of the trip. We follow the waterway down making some bum slides and a low pool jump until the canyon opens up and we reach a trail on the side of the river. We follow the flat trail out to a hut. From here we hike to the vehicle which will take us back to Matroosberg for early evening.
We supply all technical and canyoneering equipment and return transport ex-Cape Town.
Please consult with us about this adventure..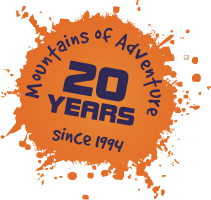 Mountains of
adventure!