Guided adventures suitable for the whole family, from toddler to granny...
Ever wanted to take the family on an incredible adventure but was not even sure where to start organising?
Your kids ever said: "dad take me rock climbing" and made your heart skip a beat?
Let us take care of the hard stuff and the safety while you bond with your family and relax outdoors.
The Venture Forth crew are experts at family oriented adventures with no-pressure activities for everyone. Friendly, helpful and fully qualified guides adventure guides make sure you are safe and have loads of fun.
We provide all the equipment and even have personal equipment for hire, so you can try out activities and make sure the family likes it before buying expensive kit to start a new sport or hobby.
Not only will you have a fun experience but you will all learn some new skills along the way and bond as a family.
Everything from half-day to multi-day trips can be arranged with the service level of your choice and to suit your budget.
Bring your friends and their family too. The more the merrier!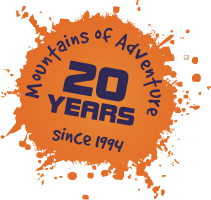 Half-day or longer trips on some of the most spectacular estuaries, dams and easy waterways in the country. Learn to paddle safely. Super fun!
Bring your own vehicle and follow the guide or jump in our vehicle. Spectacular 4x4 route with an awesome high altitude mountain camp-out. Snow in winter! All gear supplied.
family canyon fun "kloofing"
Our Cape Canyon Adventure is ideally suited to the whole family. Awesome fun in crystal clear mountain water. Make a day of it with a picnic or add-on some paddling afterwards.
learn to climb as a family
We will run a private intro to sport climbing course for you and the family on easy rock. All kit supplied. No pressure. And we WILL make dad look awesomely cool.
family winter
mountaineering
Either hike up or 4x4 up to the snowline from where we climb an easy introductory peak in true alpine style. Overnight camp on top if you wish.Gear supplied.
family HBDI ThinkAdventure
A more serious experience. Want to really understand your partner and your family. Join us for an HBDI based weekend ThinkAdventure. It will change how you function and view the world! Find out more.
Mountains of
adventure!
Various options available
Depends on adventure and numbers
Kindly enquire with us
Guide, equipment
Whatever else you need & want
Various service levels available
Personal, medical or rescue insurance