Expedition "journey" programmes
Our educational treks and expedition based programmes are intense, life changing experiences for the young people who are fortunate enough to be part of one.
Although varying in duration, Educational Treks are usually longer programs than normal school camps often lasting 4 to 6 weeks in total. The treks are aimed at teenagers between 14 and 18 years and often have the most impact on teens in the life changing stage between 14 and 16 years.

Educational treks take the form of a journey which the learners complete on their own steam by a combination of hiking, biking and canoeing. Groups are accompanied by two adults who look after safety and general welfare, but the learners look after themselves by cooking, cleaning, washing clothes and maintaining equipment.
All adults who have ever accompanied a group of young people on an educational trek will confirm that its most likely the most profound and life-shaping experience any young person could ask for. It is quite possible to witness a trekker make a complete change in behaviour, maturity and their general outlook on life while on trek.
Having an educational trek for the learners at your school is a committing task, but a rewarding experience. Implementing and persisting with a trek program at your school is one of the only proven and effective ways to change the behaviour and maturity level of your entire student body. Just speak to any educator working at a school where a trek program has been seriously and correctly implemented for a number of years.

The route is kept off the beaten track and in the great, healthy outdoors as much as possible. There is a support team who deals with logistics, re-supply and safety. Venture Forth will always have wilderness rescue capabilities and paramedical staff available in case of any emergency.

Venture Forth has substantial experience in this field and we would love to share it with you and be part of your Educational Trek. We can provide all the arrangements, infrastructure and logistics to make it happen for your school.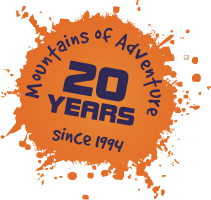 Want to experience a bit of a journey
programme? Check out this awesome video of The Rondebosch Journey
run by Venture Forth... Imagine what
we can do for your school... >>>>>>>>>>>>>>