Venture Forth has been passionately involved in youth outdoor adventure education since our inception in 1994 and we have gained substantial experience organising and running youth adventure camps at various venues across South Africa.
Although We have our own dedicated VFI Adventure Centre in the mountain wilderness area of the Hex River in the Western Cape we can run camps anywhere in the country or internationally at any suitable venue. We can source venues to suit your program and budget and we have our own portable infrastructure so that we can run quality programs in even the most basic or off-the-beaten-track venues.
Our camps are tailor made to suit your requirements and budget. You can choose from various options such as venue, activities, menu and the level of involvement of your own staff members. We can organise and operate the entire camp for you or just take care of certain specialist activities such as abseiling, rock climbing, hiking, high ropes or raft building while you look after the rest.
Our emphasis is on providing experiential learning through adventure activities with educational and self-development outcomes. Activities range from the physically easy to high activity challenges all incorporating personal, team and mental challenges to learn from. Activities are presented on a challenge-by-choice foundation, we will encourage you to overcome but not force you to.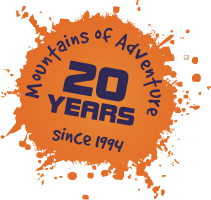 Many aspects of the school syllabus can also be covered in the outdoors and we also offer opportunities to learn additional life skills such as first-aid, outdoor survival, life saving and outdoor cooking.

Some of the activities we can provide on camp include:

High and low ropes challenge courses

Abseiling, climbing, caving, hiking, zip lines and other adventure activities

Raft building, canoeing, kayaking and other water adventures

Obstacle courses and gladiator games

Lateral thinking, problem solving challenge course

Outcomes-based group games

Beach games and other sports