We can design activities purely for fun or we can run a serious outcomes based program for you that ties in with your learning curriculum.

The recreational fun programs are usually high activity events that keep the learners busy and give the teachers a break. The program usually includes various activities that the learners rotate too in smaller groups and then a grand finale where everyone participates such as an adventure race.

On our outcomes based programs we take things somewhat more seriously and the fun and games always lead to learning. We can design a course program for you that ties in with your curriculum or you can choose from our available products which include leadership development, team work, communication, first aid and other life orientation skills.
We also have life orientation programs based on the school curriculum. Programmes often include course notes, short lecture sessions and of course practical activities.

Please contact us to discuss your group and venue and we will come up with a plan to bring the adventure education to you.
Don't have the time or budget to go to camp? No problem, VFI brings the adventure to your school, college or sports field in one of our urban adventure education programs. We can run programs ranging from one or two hours to full days at your own venue. You provide the venue, we provide the educational adventure.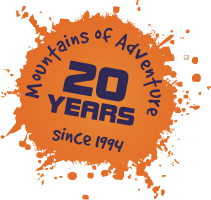 We bring the adventure to your school...
Mountains of
adventure!