Adventure racing rope skills
Learn all the rope skills an adventure racer requires to move easily and with confidence across those rope protected obstacles you so frequently encounter. Adventure Race organisers require that participants hold a "rope skills competency certificate" before they are allowed to participate in a race. This course covers all the required skills and successful participants receive a certificate of competency from Venture Forth.
Who should do this course?
Any adventure racer wishing to acquire the skills to race safely.
Topics covered include: Personal abseiling & climbing techniques, basic rope ascending, knots, self-protection, equipment selection and care.
We'll supply all the equipment you need and give you plenty of toys to try out during the course so that you can make informed choices when you do decide to buy your own kit.
Participant requirements:
The course is open to any reasonably healthy and physically capable person over the age of 16. Courses for younger participants can be arranged on request.
Mountains of
adventure!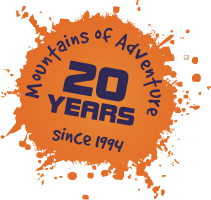 Skill level: Beginner - intermediate
Duration: 2 full days
scheduled on request
Minimum numbers: 2 persons
Maximum numbers: 8 persons
Instructor and equipment
Public liability insurance
Cape Town City area transport if required
Permits
Additional transport
Meals or accommodation
Personal, medical or rescue insurance