Based in beautiful Cape Town on the Southern tip of Africa,
Venture Forth International was founded in 1994 as a specialised mountain guide service and an accredited mountaineering school.
Using our experience gained in the mountains of the world, we have expanded our adventure portfolio to include expert services in fields such as outdoor adventure eductaion and corporate team building.
We pride ourselves on being a dynamic and professional company with the flexibility to serve our clients' adventure, travel and training requirements with dedication and enthusiasm. Whether you want to take a half day hike up Table Mountain, start out rock climbing, paddle awesome waters or go on a high altitude expedition, we would like to meet you and make it a reality.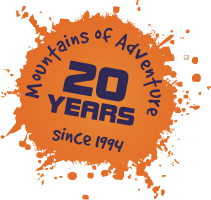 We don't really like talking about ourselves, we prefer to speak through our actions and service. But if we have to...
On the sharp end of adventure since 1994
CATHSSETA
All our professional guides hold National Qualifications as required by law and are registered with the Department of Economic Development & Tourism as legal tourist guides.
Our Guide School delivers CATHSSETA accredited training & assessment courses.
SA Mountaineering Development
& Training Trust (MDT)
Our mountain skills instructors are all MDT certified and our courses meet and exceed the MDT minimum requirements.
AFRICAN PADDLING
ASSOCIATION (APA)
Our paddling guides are all APA certified and we subscribe to the APA code of practice and conduct.
We are busy expanding our product offering in 2014. We are currently adding more water and paddling activities which will be followed by further development of our mountain biking tours later in 2014...
Wild Medix
Our sister-company. Takes care of all our wilderness first aid training and remote area standby requirements.
Adventure Qualifications Network
Our training & assessment service provider partner.
RAM Mountaineering
Supplier or superior outdoor adventure equipment to our guides.